Please Click Here To Email Mail Me If You Have Had An Encounter With "Grassman aka Bigfoot"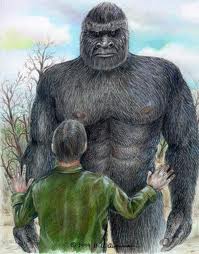 A Trapper's Dream Ohio's "GRASSMAN"

Is He or She Fact or Fiction??

Sightings That Have Been Claimed In Northeast Ohio
The "Grassman" was named by early European settlers to the area now known as Ohio, who spotted a large man-like creature roaming the grassy plains of the region during the 18th and 19th centuries. In January 1869, in Ohio's Gallia County, a man and his daughter reported being attacked by a wild beast that they described as gigantic in size, with burning eyes and a body covered in hair. The girl threw a rock at the creature, allowing herself and her father to escape after a long struggle.
Like Sasquatch (or "Bigfoot"), to whom it is often compared, the Ohio Grassman is a tall biped that walks upright and stands some seven to eight feet tall. Witnesses report the Grassman as having broad shoulders and being covered in black or dark brownish hair. The creature is also said to have a very muscular build and weigh anywhere from 300 to 1,000 pounds, with large hands and feet.
The Grassman has been spotted in the forests and plains of the largely rural eastern part of Ohio, including in the foothills of the Allegheny Mountains.
The Ohio Grassman has been seen traveling in groups of several individuals, and may have engaged in cooperative hunting of deer, indicating that it is more social than Bigfoot is believed to be. The Grassman has been seen often on or near farms, which may be an important food source; in contrast, Bigfoot relies on non-cultivated food sources like berries and other forest plans. There are indications that the Grassman either lives in caves or constructs crude dwellings from material found in the forest.
Most Recent Reports