Cuyahoga County 1895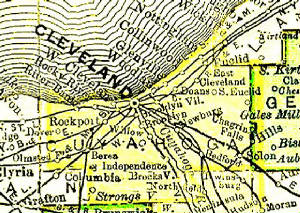 CUYAHOGA was formed from Geauga county, June 7, 1807, and organized in May, 1810. The name was derived from the river, and is said to signify, in the Indian language, "crooked," a term significant of the river, which is very winding,' and has its sources farther north than its mouth. The surface is level or gently undulating. Near the lake the soil is sandy, elsewhere generally a clayey loam. The valleys of the streams are highly productive in corn and oats; in other parts the principal crops are wheat, barley and hay. The county produces a great variety and amount of excellent fruit; also cheese, butter, etc. Excellent grindstone quarries are worked, and grindstones largely exported. The sandstone from these quarries is a great article of commerce.

Cities, Villages, and Townships In Cuyahoga County We Have Been Providing Service For "Since 1998":
Wildlife & Environmental Solutions
Owned and Operated by Ken Franklin
We provide a wide range of services for the Cuyahoga County Area:
Raccoon Damage
Bat Exclusion & Guano Removal
Sanitization & Restoration of Affective Areas
Chimney Screens & Deck Screening
Skunk Odors and Dead Animal Removal
Beavers, Squirrels, Trapping
& Humane Removal of Wildlife
We Can Provide Service and Repairs That MAY BE COVERED Under Your Home Owner's Insurance For Damage Caused By Wildlife.
Please, Call If You Have Any Questions And Ask For Ken.
(440) 669-4499
Or Email