Home for Bats, Raccoons, Squirrels, Bat's or Raccoon's Feces (Guano) Removal.
Zip Code Area Serviced
Counties We Provide Service For
About Us and Contact Info
Bats Found in Ohio
Bat Exclusion
Guano Removal aka Bat (Feces) Poop
Opossums Information on Size, Breeding, Habits, and Diseases
Raccoons, Habits, Breeding, Size, Raccoon Diseases, Raccoon Trapping
Skunks, Odors, Habit, Breeding, Size, Trapping
Squirrels, Squirrel Diseases, Removal, Habits
Beavers
Chimney & Deck Screening
Trapping
Common Questions Asked
Cats, Dogs and Your Local Wardens
Do Repellents Really Work??
My Family's 1st WildlifeTrapper & Home Owner's Insurance
Info On Raccoons, Bats, Squirrels, Etc..,Size, Weight, Breeding, Etc...
Bats Myths or Facts
Infectious Diseases of Wildlife
"Ken Kritter Korner"
NEW SERVICE Bees and Hives Info

Hambleton Mill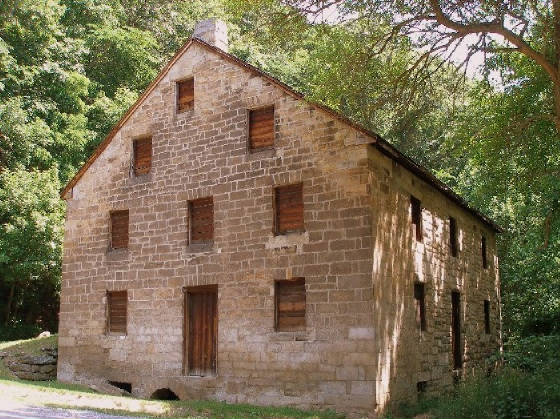 The village of Sprucevale was founded around 1835 by the Hambleton Brothers: Charles, James, Isaac, and Benjamin. The village had a flax seed oil mill, sawmill, woolen mill, and this gristmill. The Sandy & Beaver Canal helped the village prosper. This mill site was established in 1813 when James Brooks built a small mill along Little Beaver Creek. This particular gristmill was constructed around 1835 by James Hambleton. Water from the canal was used to turn a waterwheel that was located in the basement. The operation ceased after the Sandy & Beaver Canal was abandoned in 1852. The mill was never operated again. In the 1970's, a descendant of the pioneer Vodrey Family, William Vodrey, generously provided the funds necessary to replace the roof and repair the crumbling walls.
Teegarden Covered Bridge - 1875
Links To The History of Columbiana County Listed Below
McClelland Covered Bridge - 1879
Historical Sketch of Columbiana County
Links to Wildlife Viewing Areas and Parks Listed Below
Ohio State Park - Beaver Creek




For Additional Information You Can Visit Our Other Web Sites

Created, Designed, and Maintained by BigBuck