Trumbull County In 1895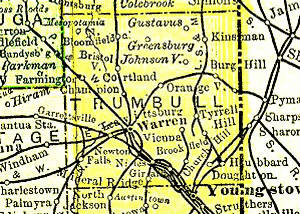 TRUMBULL COUNTY was formed in 1800, and comprised within its original limits the whole of the Connecticut Western Reserve. This is a well cultivated and wealthy county. The surface is mostly level and the soil loamy or sandy. In the northern part is excellent coal. The principal products were wheat, corn, oats, grass, wool, butter, cheese and potatoes. On the 10th of July, 1800, Governor ST. CLAIR proclaimed that all the territory included in Jefferson county, lying north of the forty-first degree, north latitude, and all that part of Wayne county included in the Connecticut Western Reserve, should constitute a new county, to be known by the name of Trumbull, and that the seat of justice should be at Warren. It will be seen that the county thus constituted was coextensive with the Reserve or the New Connecticut of five years before.

Municipalities, Cities, Villages, Townships and Other Localaties In Trumbull County We Have Been Providing Services For "Since 1998":
Wildlife & Environmental Solutions
Owned and Operated by Ken Franklin
We provide a wide range of services for the Trumbull County Area:
Raccoon Damage
Bat Exclusion & Guano Removal
Sanitization & Restoration of Affective Areas
Chimney Screens & Deck Screening
Skunk Odors and Dead Animal Removal
Beavers, Squirrels, Animal Control, Trapping,,
& Humane Removal of Wildlife
We Can Provide Service and Repairs That MAY BE COVERED Under Your Home Owner's Insurance for Damage Caused by Wildlife.
Please, Call If You Have Any Questions And Ask For Ken.
(440) 669-4499
Or Email