Jefferson County In 1895
Jefferson County, named from President Jefferson, was the fifth county established in Ohio. It was created by proclamation of Governor St. Clair, July 29, 1797; its original limits included the country west of Pennsylvania and Ohio; and east and north of a line from the mouth of the Cuyahoga; southwardly to the Muskingum and east to the Ohio. Within those boundaries are Cleveland, Canton, Steubenville, Warren, and many other large towns and populous counties. The surface is hilly and the soil fertile. It is one of the greatest manufacturing counties in the State, and abounds in excellent coal. The old Mingo town, three miles below Steubenville, now (1846) the site of the farms of Jeremiah H. HALLOCK, Esq., and Mr. Daniel POTTER, was a place of note prior to the settlement of the country. It was the point where the troops of Colonel Williamson rendezvoused in the infamous Moravian campaign, and those of Colonel Crawford, in his unfortunate expedition against the Sandusky Indians. It was also at one time the residence of LOGAN, the celebrated Mingo chief, whose form was striking and manly and whose magnanimity and eloquence have seldom been equalled.
Jefferson County Courthouse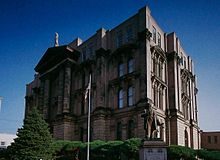 Municipalities, Townships, and Other Localities in Jefferson County We Have Been Providing Service For "Since 1998":
Wildlife & Environmental Solutions
Owned and Operated by Ken Franklin
We provide a wide range of services for the Jefferson County Area:
Raccoon Damage
Bat Exclusion & Guano Removal
Sanitization & Restoration of Affective Areas
Chimney Screens & Deck Screening
Skunk Odors and Dead Animal Removal
Beavers, Squirrels, Trapping
& Humane Removal of Wildlife
We Can Provide Service and Repairs That MAY BE COVERED Under Your Home Owner's Insurance for Damage Caused by Wildlife.
Please, Call If You Have Any Questions And Ask For Ken.
(440) 669-4499
Or Email