Home for Bats, Raccoons, Squirrels, Bat's or Raccoon's Feces (Guano) Removal.
Zip Code Area Serviced
Counties We Provide Service For
About Us and Contact Info
Bats Found in Ohio
Bat Exclusion
Guano Removal aka Bat (Feces) Poop
Opossums Information on Size, Breeding, Habits, and Diseases
Raccoons, Habits, Breeding, Size, Raccoon Diseases, Raccoon Trapping
Skunks, Odors, Habit, Breeding, Size, Trapping
Squirrels, Squirrel Diseases, Removal, Habits
Beavers
Chimney & Deck Screening
Trapping
Common Questions Asked
Cats, Dogs and Your Local Wardens
Do Repellents Really Work??
My Family's 1st WildlifeTrapper & Home Owner's Insurance
Info On Raccoons, Bats, Squirrels, Etc..,Size, Weight, Breeding, Etc...
Bats Myths or Facts
Infectious Diseases of Wildlife
"Ken Kritter Korner"
NEW SERVICE Bees and Hives Info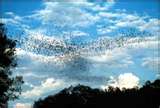 If your home has bats, please be aware that it is imperative that you have them excluded properly and have the home cleaned properly. If bats roost in your attic, you need to get them out as quickly as possible. They can cause many problems with smell and parasites as well.
Warning Bats are susceptible to rabies, a serious viral disease that results in death if untreated. Rabid bats rarely attack humans or other animals, but bats found lying on the ground may be rabid. Never touch or pick up any bat. Stay away from any animal that seems to be acting strangely and report it to animal-control officers. If you are bitten by a possibly rabid animal, you must immediately consult a doctor for a series of injections; there is no cure once symptoms emerge.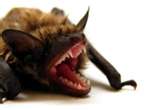 This attic was home to hundreds of bats. The homeowner had us remove the bats and we show him the extent of the bat guano that remained in the attic.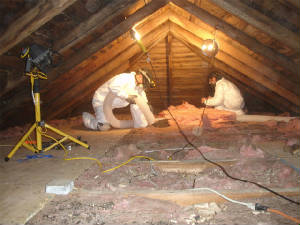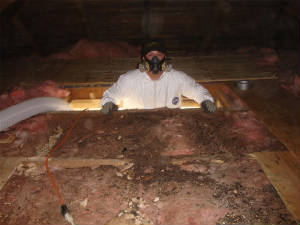 When dealing with the exclusion of bats it is advisable to hire a professional, such as ourselves, who will be able to remove ALL THE BATS without danger to you, secure your residence, sanitize the area affected, and if needed remove and replaced your contaminated insulation.

The pictures above portray the condition of the attic before we began. There were massive piles of bat droppings under the major roosting areas of the attic as well a significant layer that was evenly spread throughout the entire attic. The insulation was filthy and heavy from years of bat urine and guano seeping into it.

Attic With New Blow In Insulation

Attic Area Ready For New Insulation



If you have a wildlife problem, such as with Bats or Guano Removal, it best be handled by a professional firm, such as ourselves. Then, and only then, can you have peace of mind that that neither yourself, family member, or pet will be bitten or injured and the biological cleanup will be done properly.

We began sucking up the bat guano and the insulation with our commercial bat-guano vacuum. This is a dirty, slow and tedious process. Once all the bat guano and the contaminated insulation was removed we disinfected and deodorized the entire attic.

Contaminated Insulation Being Removal Properly


Our High Powered Vaccuum Onsite For Removal

The finished product is a clean, guano-free attic. We took an attic that was a heavily contaminated disaster area and turned it into usable space. It is now safe to enter this attic and it can once again be used for storage
For Additional Information You Can Visit Our Other Web Sites

Created, Designed, and Maintained by BigBuck